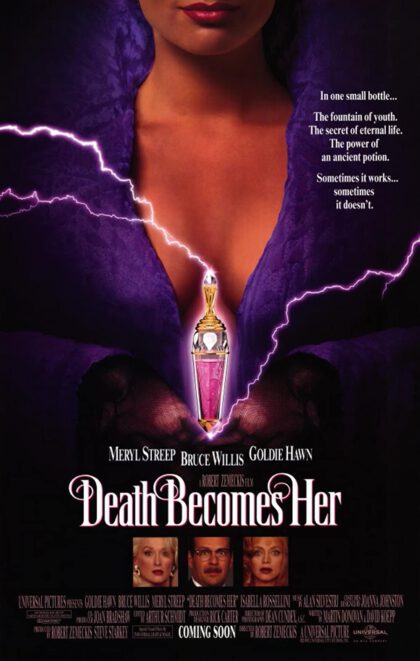 Welcome to Queer LAB-1 Movie Night, this time we will show the classic "Death Becomes Her" for you!


"30 years after fizzling out in theaters, this delightfully macabre comedy is a gay cult classic! "


Every month you can expect a surprising LGBTQ+ related new or classic film. Take a drink and chill with friends before and after the movie.

Program:

20:30 Walk-in & drinks
21.30 Start film
23.30 End of the film
23.30 Drinks, meet and chill

DEATH BECOMES HER

When a novelist loses her man to a movie star and former friend, she winds up in a psychiatric hospital. Years later, she returns home to confront the now-married couple, looking radiant. Her ex-husband's new wife wants to know her secret, and discovers that she has been taking a mysterious drug which grants eternal life to the person who drinks it. The actress follows suit, but discovers that immortality has a price.

English spoken, No subtitles

ABOUT THE FILM

30 years after disappearing out in theaters, this delightfully macabre comedy is a gay cult classic!

The film savagely satirizes themes relevant to the gay male community in particular (e.g., obsession with youth and beauty) and does so with over-the-top glamour, a remarkably campy aesthetic, and blistering insults. And it is all delivered by two of the most beloved big screen actresses of all time.

Death Becomes Her is a film without heart and, at times, a film without much logic. But it is a wildly entertaining and often hilarious spectacle in which a host of truly talented individuals dared to lean 100% into a dark and bizarre premise.

The Queer Film night is Supported by Proud ASML and DayDayGay!